I am not even done with this write-up and I already bought another ticket to Japan during peak sakura season in April 2013! Yay~!!! This time 2 of my friends will be joining me~ we will be covering Kyoto-Kanazawa-Shirakawago-Takayama-Hirayu-Shin Hodaka-Nagoya-Osaka-Nara-Akame-Iga in 9 days!!! A very ambitious plan if you ask my friends :P
Guess what, some of the more popular hostels are already full... and I am already making my reservations 4 months in advance... (nobody believed the Maya calendar afterall I guess!) All things aside, can't wait to see some sakura and I want a new camera!!!
Really, really wanted to add Kamikochi and Norikura but they are not opened yet... and Kobe-Rokko-Mt. Maya too but it's just too much! I guess I have to wait till yet another time... and my friends were asking why I am going back to visit Japan so soon already... honestly, except Kyoto and Osaka, I haven't been to the other places (Is it crazy if I tell you I already have a rough idea of where I want to visit Japan the third and the fourth time?)
FYI - anyone wanting to visit the old Tsukuji Market should try to plan a trip before the end of next year. They are moving!
Day 8 - Took the JR in the morning to Shirahama. If you are planning to go there from Osaka, I highly recommend getting the
Kansai West Pass Wide
. The pass is good for 4 days and it costs JPY7,000 but just one-way from Osaka to Shirahama is already JPY4,890 so you are getting a very good deal.
Shirahama is a small town 2 hours and 40 minutes away from Osaka via JR (limited express). The ride was scenic. I didn't see many foreign tourists but saw a lot of retirees. People were actually surprised when they heard I am going there: "why Shirahama?" they asked. Seriously - why not?
saki-no-yu
2. Beautiful beaches - Shirahama Beach is
widely known as one of the most beautiful beaches in Japan
.
Shirahama beach
3. Excellent sightseeing - in addition to Sandanbeki and Senjojiki, there is also the renowned sunset at Engetsu Island and Kumano Kodo nearby.
Sandanbeki
Senjojiki
Engetsu Island
4. Excellent food - Shirahama is the home to one of the largest seafood market in Kansai - Tore Tore Ichiba (
lit
. Fresh Fresh Market) In addition, it's also home of the Nankou plums, which is known the best plum of Japan.
Mandarin ice cream
grilled fresh whelk and squid
mixed seafood bowl
grilled fresh (huge) scallops
Everything closes early though so unless you have your own transportation, don't expect any late night adventures. I bought a 2-day bus pass (
JPY1,300
) and checked-in at my hotel. The hotel is a little older but well kept. It's also within walking distance to 2 of the main attractions:
Senjojiki and
Sandanbeki. I later took the bus and watch the sunset across from Engetsu island.
Meiko bus map 1
Meiko bus map 2
my room is huge!!!
clear water
love this picture
and this one too
there were a lot of people coming out to see the sunset
although it was a bright and sunny day, the cloud blocked the setting sun
hence, i didn't get the perfect sunset shot :(
foot soak with a view - there were quite a few of them along the coast line
lovely sunset
The food at the hotel was alright but you get a lot of choices. (The places I wanted to try were either fully booked or inconvenient from where I stayed.)
sukiyaki - JPY2,000 yen extra - the broth was too sweet but the beef was very good quality
The room that actually excites me the most is the manga room!!! Seriously a wall-to-wall shelf of manga... I could have stayed up all night reading there... (even though everything was in Japanese)
X - a manga that was supposed to end back in 1999
it was never completed... and I never finished reading it...
I was too sleepy after soaking in the outdoor onsen at the hotel... so yeah... I didn't get to sneak out and tried the disgusting looking shellfish I saw during my research... seriously, check
this
out...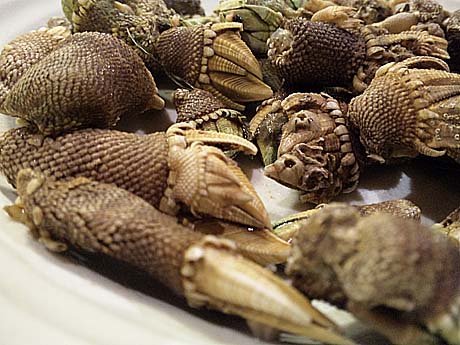 ...and for those that didn't bother to click for the entire blog entry -
this is what I am talking about!