If you are a foodie and have been to Osaka before, the names of Rikuro's and Pablo are probably no news to you. If you haven't heard of them, they are two of the more popular desserts shops in the city!
Rikuro's has been around for many years and it's a household name for locals and tourists alike. I went absolutely nuts at Rikuro's this time as my last experience with them was too good and I am still salivating for their apple pie every now and then.
The main shop...
Shop #2...
they are actually on the same alley but shop #2 closes earlier.
The Namba shops are not the easiest places to find if you haven't been there before. However, once you have tried their cheesecakes and other goodies, you will keep returning - just like the rest of them. It's really amazing that there is still a line when the shop has been around for over 20 years! It just says a lot about their products.
There are 2 lines
One is for their fresh-out-of-oven cheesecakes and the other is for cakes made the same day.
Sometimes, the shop limits 2 fresh cheesecake per patron on super busy days.
In addition to their cheesecakes, I highly recommend their apple pie.
I tried half during my first visit and regretted immediately after I had my first bite!
It was too delicious!!! Sure enough, I bought an entire pie the next time.
And no, no sharing of my apple pie.
The strawberry cake roll is outstanding as well.
I bought a half roll to try (3 slices) and ate them all in one serving.
I will not buy half size here again.
If I must gain weight, so be it.
I will get the largest size I can get from now on.
The half apple pie I bought my last trip.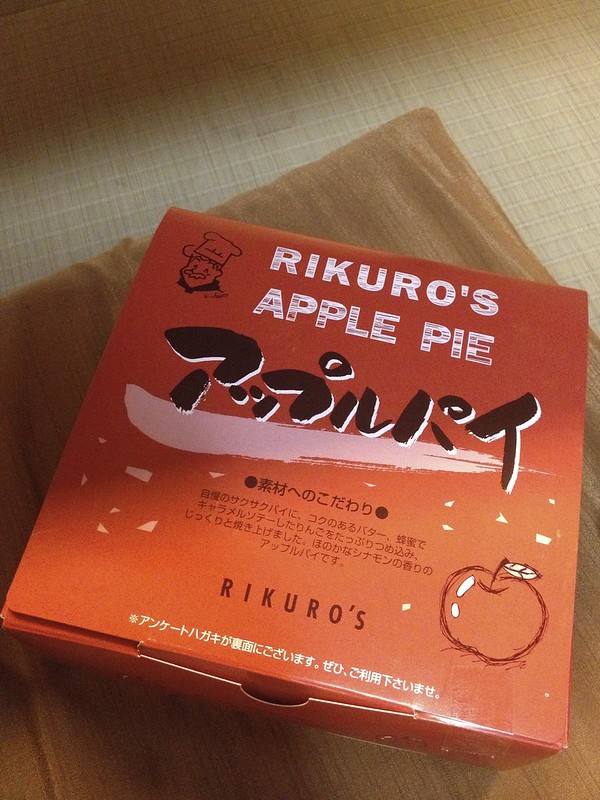 Not gonna make the same mistake again
The shop even gave me a pack of cold ice
They always asked if you were able to refrigerate the cakes within 2 hours
My real answer is always "no" but they make me feel like they will refuse to sell me my cakes so I always said "yes"
I tried to restrain myself to just one slice but the attempt failed miserably.
Shall I be glad that I only bought the smallest size available instead of the entire roll?
Pablo
I passed by the shop during my first visit and made a mental note I will return to try the cakes here next time. (I was loaded with Rikuro's already.) Pablo's reputation sky-rocket this time around and the lines was long. The shop was pumping out fresh cakes non-stop but yet my wait time was approximately 30 minutes. (I only had to wait approximately 15 minutes at Rikuro's.)
The signature product is their cheesecake. They offer a choice between "raw" (レア) and a "medium" (ミディアム). The ingredients are the same but the baking times are different. I bought a raw one to try as the melting cheese is too tempting.
I like the open kitchen. It makes the wait not only bearable, but enjoyable as well. I love how everyone there is so focused on making what ultimately will become my desserts :)
pardon my cake...
Afterall, it survived the train, flight, taxi, and ferry from Osaka all the way to Macau!
In addition to the regular cheesecakes, Pablo also sells a limited number of
Premium Cheese Tarts
. I assume this is even richer in taste compared to their regular cheesecakes but this one was sold out on the day I was there. I only saw the ladies making them...
The cheesecakes from these two shops are very different in texture and taste. Rikuro's is fluffy and aromatic. I enjoy Rikuro's cheesecake warm. The raisins bring an interesting texture to the otherwise light cake. On the other hand, Pablo's is rich and creamy. I prefer Pablo's cold. The crust is crunchy, which balances out the dense flavor from the cheese.
For me, I prefer Rikuro's style of cheesecake better but in the end, it all comes down to your personal preference.