Kenrokuen
(兼六園)
is known as one of the
Three Great Gardens of Japan
with Kenrokuen rated as #1
. It's
famous for its beauty in all seasons and a place I cannot miss, especially when the sakura are in full bloom. I went to the garden despite of a heavy
spring storm
that day. (My friends went to make "wagashi" - Japanese confectionery - instead.) It was cold and rainy at the garden but the flowers were spectacular.
Thus, when my umbrella broke (just as I was walking on the ramp towards Kenrokuen), I unabashedly asked the tourist center at the Kanazawa Castle if I could borrow an umbrella. Luckily, the nice folks at the Kanazawa Castle got a spare umbrella to lend me! They didn't even ask me when I will return the umbrella! (Again, my amazing hostel helped me return the umbrella.)
the poor umbrella
Now that I have a new umbrella, I marched on to Kenrokuen. (I wanted to see the Kanazawa Castle too but Kenrokuen was my priority.) In celebration of the hanami season, Kenrokuen offered free admission to the garden.
Since it was cold and rainy, I walk as fast as I could while taking picture of everything I saw. Although I didn't have the leisure to stroll and enjoy the garden to its fullest, I am happy with what I saw. May the sunshine be with me at my next visit.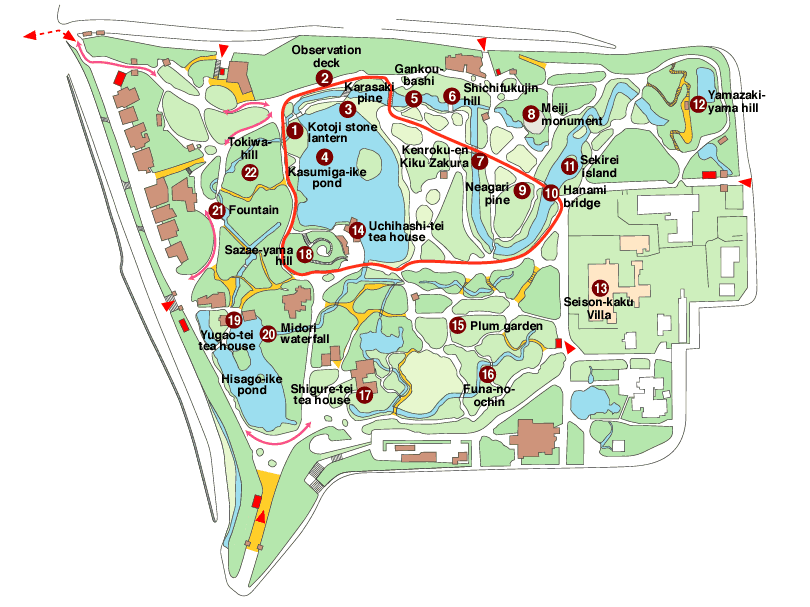 This is the route I end up doing.
Kotoji Stone Lantern
"This stone lantern is emblematic of Kenrokuen. It is located on the north side of Kasumiga-ike Pond. This lantern has two legs, which is said to resemble Kotoji, the bridge on a koto. It is a modified version of the Yukimi Lantern, which lights up the surface of the water. It is 2.67 meters high. The scene that includes this lantern, the surrounding old trees with their colorful autumn foliage and Niji Bridge is the most impressive in Kenrokuen."
Kotoji Stone Lantern (close up)
Panoramic View Point
Hanami-Bashi, Flower Viewing Brdige
"This bridge has Giboshi ornaments on the handrails. The name comes from the excellent view of flowers enjoyed from the bridge. Cherry, iris and azalea flowers in season blossoming along the streams attract many visitors. Green leaves in summer and colorful leaves in autumn as well as the view in winter mustn't be missed."